This Sunday much of the U.S. will be tuned in to watch the L.A. Rams take on the New England Patriots in Super Bowl LIII.
Whether you're there for the football, the ads, or the halftime show, you'll need plenty of snacks to keep the party going until the Lombardi Trophy is hoisted.
Given that cannabis is legal in both California and Massachusetts (home states of each team), it only seems right to pay homage by whipping up an array of medicated munchies that will be sure to satisfy in more ways than one.
Try these game-day snacks for a Super Bowl Sunday you and your pals won't forget.
Blazed Buffalo Wings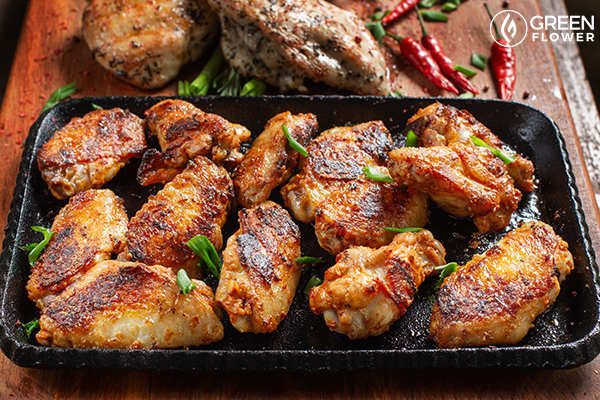 You can't have a Super Bowl party without at least one spicy snack made to set your taste buds ablaze. These hot wings are a medicated twist on classic buffalo wings, tossed in a spicy sauce that'll leave you craving more even after they're gone.
Ingredients:
3 pounds of party style chicken wings
1 tablespoon of baking powder
1 teaspoon of salt
1/2 teaspoon of ground black pepper
1/2 teaspoon of garlic powder
1/2 teaspoon of onion powder
1/2 cup of hot sauce (we like Frank's Red Hot)
4 tablespoons of cannabutter (melted)
1 tablespoon of honey
Directions:
Preheat the oven to 400 degrees. Line a large sheet pan with aluminum foil, and set an oven-safe rack on top of the foil.
Toss chicken wings in a large bowl with baking powder, garlic powder, onion powder, salt, and pepper. Make sure to coat all of the wings evenly.
Lay as many wings on the rack as will comfortably fit. Bake for about 45 minutes, or until wings appear golden brown and crispy.
While the wings are baking, whisk cannabutter, hot sauce, and honey together in a small bowl. Combine sauce and wings in a large serving bowl, and toss well to make sure the sauce is evenly distributed. Serve with ranch or blue cheese dressing.
West Coast Mini Fish Tacos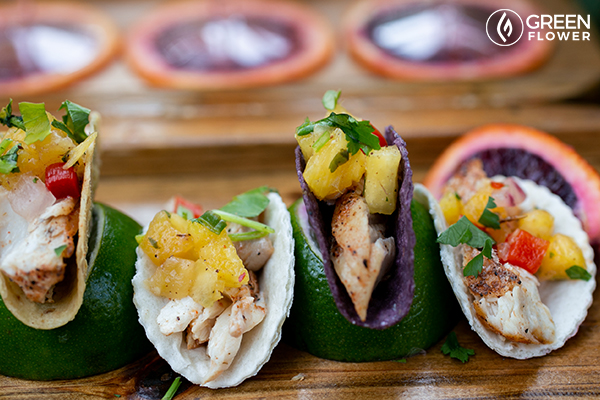 Los Angeles is known for a lot of culinary delights, but when it comes to fish tacos, the West Coast is second to none. The area's cuisine boasts a ton of authentic Mexican hotspots, and these cannabis-infused mini fish tacos are a great way to rep your Rams team spirit in the kitchen and beyond.
Ingredients:
Baked wonton cups:
15 of wonton wrappers
1 1/2 tablespoons of olive oil
Salt
Fish filling:
1 tablespoon of olive oil
2 tilapia or Mahi Mahi fillets, 4 to 5 ounces each
1 1/2 teaspoons of ancho chili powder (you can substitute regular chili powder in a pinch)
Salt and fresh ground black pepper
Canna-Mango Salsa:
2 tablespoons of canna-oil
2 cups of chopped mango (pitted and peeled)
1 cup of chopped red bell pepper
2/3 cup of chopped green onions
1/4 cup of chopped fresh cilantro
2 tablespoons of fresh lime juice
Directions:
Preheat the oven to 350 degrees. Combine all of the ingredients for the salsa in a small bowl. Cover and refrigerate while the rest of the meal is being prepared.
Brush wonton wrappers with a light coating of olive oil, and season with a pinch of salt. Gently press the wrappers into the cups of a mini muffin tin, and bake until light brown (about 8 to 10 minutes). Allow to cool on a metal rack.
Mix chili powder with a pinch of salt in a small bowl. Rub both sides of the fish filets with olive oil, and then the spice mixture. Set the fish in a baking dish and bake for about ten minutes, or until the fish begins to appear flaky.
Divide the fish between the wonton cups, and top with a spoonful of cannabis-infused salsa. Serve immediately.
Lit Lobstah Mac and Cheese Bites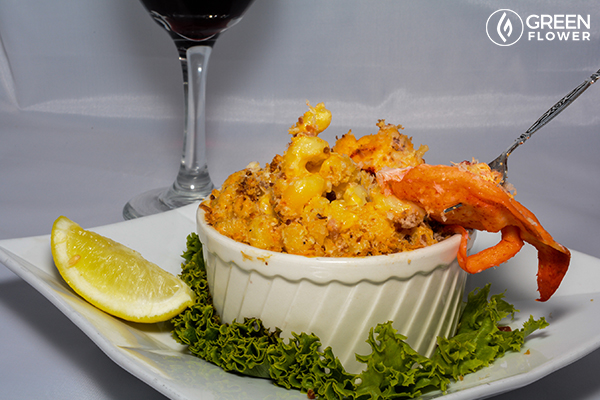 If there's one thing that New Englanders are as proud of as the championship rings on Tom Brady's fingers, it's the world-class seafood that comes out of the coastal northeast. These deliciously decadent mac and cheese bites contain three ingredients that the region holds near and dear to its heart: lobster, cheddar cheese, and, of course, cannabis.
Ingredients:
1 pound of cooked macaroni
2 tablespoons of cannabutter
2 tablespoons of regular butter
¼ cup of flour
¼ teaspoon of salt
½ teaspoon of pepper
2 ½ cups of milk
4 oz of cream cheese
4 oz of white cheddar cheese (shredded)
8 oz of sharp cheddar cheese (shredded)
½ teaspoons of nutmeg
1 cup of cooked lobster meat (about 3 lobster tails)
cup of panko bread crumbs
Directions:
Preheat oven to 350 degrees.
On medium heat, melt butter in a large skillet until it begins to bubble. Add flour, salt, and pepper, and whisk into a roux.
While continuously whisking, add milk. Keep whisking until the milk begins to simmer and is thick enough to cover the back of a metal spoon.
Mix in cream cheese, and stir. Reduce heat, and add both types of shredded cheese by the handful, stirring between each one. Add nutmeg, and mix fully.
In a large bowl, pour the cheese mixture over the cooked pasta and add lobster meat. Stir until the ingredients are evenly distributed.
Spoon the pasta mixture into greased mini muffin tins. Top with a sprinkle of panko bread crumbs, and bake for 30 minutes.
After removed from oven, the mac and cheese bites will need to cool for about ten minutes. Serve immediately, and enjoy!
Nacho Cheese Cheeba Dip
This nacho cheese sauce from Higher Mentality may very well end up being the MVP of your Super Bowl party. It's a velvety liquid gold that's perfect for generously drizzling over a tray of nachos, but it can also fill in as a rich, unexpected dip for pretzels, fresh veggies, chips, and more. It's easy, quick, and absolutely delicious.
Ingredients:
¼ cup of cannabutter
2 tablespoons of flour
1 cup of cannamilk
1 cup cheddar cheese (grated)
½ cup of pepper jack cheese (grated)
¼ teaspoon of salt
¼ cup of salsa
Directions:
Using low heat, melt the cannabutter in a small saucepan. Add flour, and stir until mixed into a paste.
Add cannamilk, cheeses, and salt, and whisk until the sauce is smooth. Slowly pour salsa into the pan while mixing, and stir until fully incorporated. Transfer sauce into a serving dish, and serve warm.
Canna-Honey Garlic Crockpot Meatballs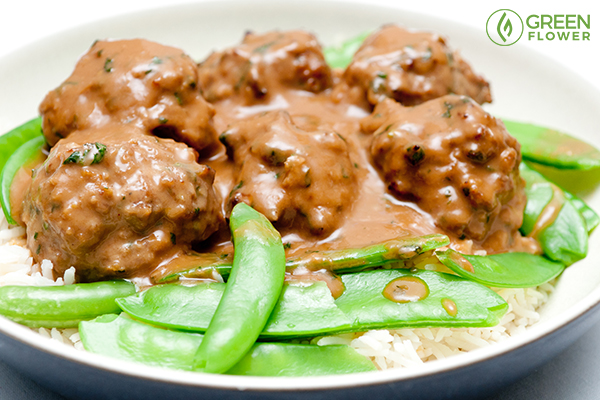 These meatballs are seriously addictive, in the best possible "everyone crowding around the crockpot" kind of way. Cannabis-infused honey may not be something you always have on hand, but these meatballs are worth whipping up a batch. You and your guests will thank us later.
Ingredients:
1/4 cup of brown sugar
1/3 cup of cannabis-infused honey (try this recipe from our friends over at Honest Marijuana)
1/2 cup of ketchup
2 tablespoon of soy sauce
3 cloves of garlic (minced)
1 28oz bag of frozen meatballs (fully cooked)
Directions:
Whisk together sugar, honey, ketchup, and soy sauce in a small bowl.
Add meatballs to the crockpot, and pour the sauce mixture over the top. Stir to make sure all of the meatballs are evenly coated.
Cook on low heat for 3-4 hours, stirring occasionally.
Need some extra help in the kitchen?
Making your own cannabis edibles is easier than you might think!
---
Sign up for our newsletter