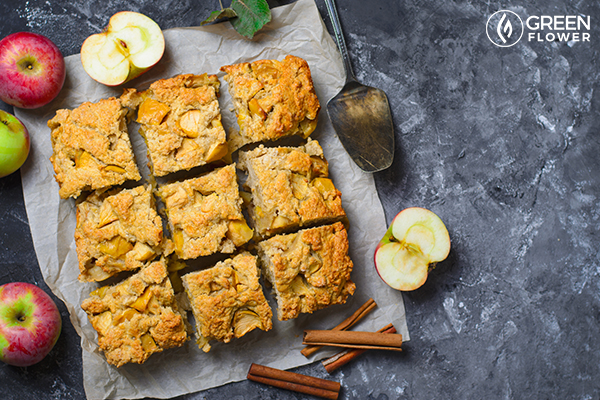 When fall is in the air, many of us flock to our local apple orchards to enjoy the crisp weather and pick our favorite fall fruit right from the tree.
It's easy to go a little overboard on your apple harvest when you're caught up in that fall feeling.
Try cooking up a few batches of these yummy treats and skip the part where you rack your brain trying to come up with ways to use all of your apples.
Apple Cinnamon Medicated Muffins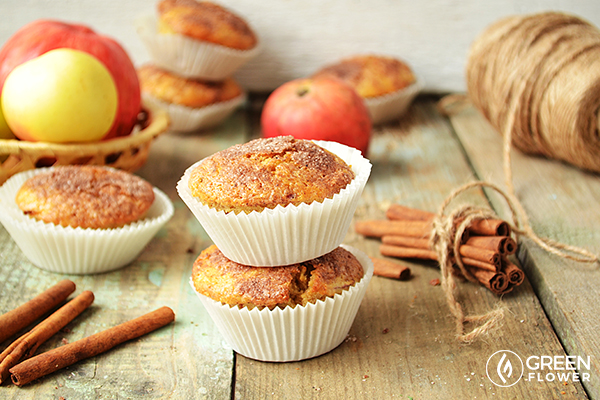 Nothing beats greeting the day with a freshly baked muffin—especially when that muffin packs a powerful dose of cannabis. Start your morning off right by nibbling on one of these medicated apple cinnamon muffins with your coffee.
Ingredients:
3 cups of flour

¾ cup of sugar

¾ cup of brown sugar (packed)

3 teaspoons of baking powder

2 teaspoons of cinnamon

1 cup of milk

cup of cannabutter (melted)

2 eggs (lightly beaten)

2 cups of finely chopped apples (a tart variety tastes best here)
Directions:
Preheat oven to 375 degrees F. Grease a 12-cup muffin tin, or insert a paper liner into each cup.

In a large bowl, mix flour, sugar, brown sugar, baking powder, and cinnamon.

Add remaining ingredients and stir until fully mixed.

Spoon batter into muffin tin. Bake for 19-23 minutes, or until golden brown. Allow to cool for about five minutes before removing from pan.
Honey Apple Ganja Butter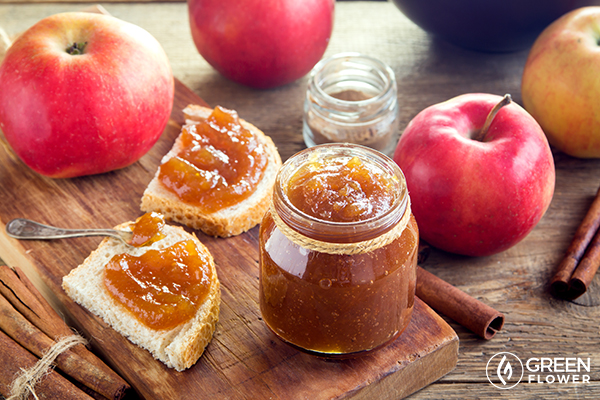 More of a jam than a butter, this honey apple spread will kick your morning toast game up a notch. The best part: the fall-infused smell that takes over your kitchen while the flavors in this concoction get to know each other in your slow cooker.
Ingredients:
5 lbs of apples

1/3 cup of cannabis infused honey (

High Times

has a great recipe for this)

1/3 cup of brown sugar

1 teaspoon of cinnamon

1/2 teaspoon of cloves

1/2 teaspoon of nutmeg
Directions:
First, wash and prep the apples. Peel, core, and cut into large chunks.

Put apples, infused honey, brown sugar, and spices in a large slow cooker. Stir until combined.

Cover, and cook on low heat for 7-8 hours. Remove the lid and stir. The apples should be very soft, and should mostly dissolve into the honey mixture when stirred.

For a smoother texture, use a blender (preferably an immersion blender) to puree the apple butter at this stage. Return to the slow cooker if removed for blending.

Cover and cook on high for 45-60 minutes, until it thickens and reaches your preferred consistency.
Old Fashioned Canna-Apple Dumplings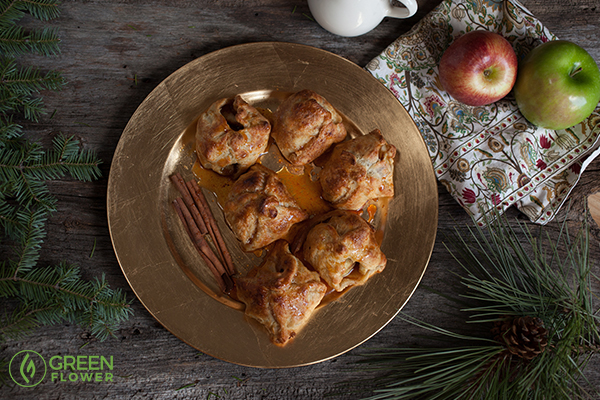 These dumplings dish out a whole lot of flavor and will evoke memories of Grandma's old timey cooking. It's not just the apple cinnamon pastry goodness that will knock your socks off–these dumplings are made by using cannabutter in two different parts of the recipe.
Ingredients:
1 package of pie crust

6 large Granny Smith apples, peeled and cored

1/2 cup of cannabutter (chilled)

3/4 cup of brown sugar

1 teaspoon of ground cinnamon
1/2 teaspoon of ground nutmeg

3 cups of water

2 cups of white sugar

1 teaspoon of vanilla extract
Directions:
Preheat oven to 400 degrees F. Grease a 13×9 inch baking pan, and set aside.

Roll out pie dough onto a lightly floured surface, and divide into six even sections (large enough to hold one apple). Divide cannabutter into eight equal amounts.

Place an apple in the center of each section of pie crust. Place one piece of cannabutter into the center of each apple (set aside the remaining butter). Sprinkle brown sugar on both the outside and inside of each apple. Sprinkle nutmeg and cinnamon over the tops of the apples.

Keeping fingertips slightly moist to prevent sticking, bring the edges of each pie crust section up to meet in the center and press together to seal the dough. Place each apple in the prepared baking dish.

Mix water, sugar, vanilla, and the remaining cannabutter in a saucepan. Over medium heat, bring mixture to a boil, and allow to cook for five minutes or until the sugar is entirely dissolved. Pour over the dumplings.

Bake for 55-60 minutes. Spoon sauce over the top of dumplings, and serve warm.
Cannabis Apple Crisp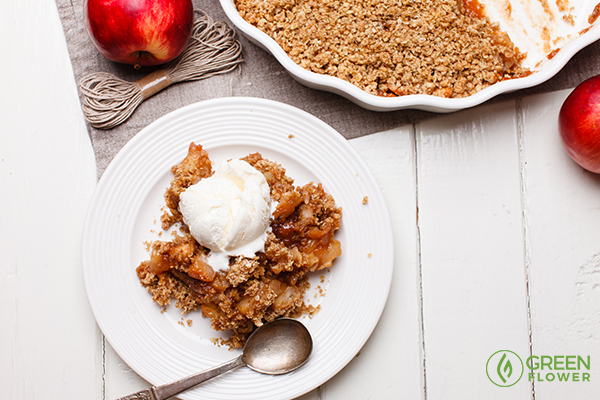 If you begin dreaming of sweet, buttery apple crisp as soon as the air starts to cool, this is the cannabis recipe for you. Created by The Weed Scene, this cannabis apple crisp will leave you feeling warm and cozy in both body and soul.
Ingredients:
10 apples (peeled, cored, and sliced)

1 cup of granulated sugar

1 cup plus 1 tablespoon of all purpose flour

1 teaspoon of ground cinnamon

½ cup of water

1 cup of cooking oats

1 cup of brown sugar

¼ teaspoon of baking powder

¼ teaspoon of baking soda

½ cup of cannabutter

1 ounce of cannabis tincture
Directions:
Preheat oven to 350. Spread apples evenly on a greased 13×9 inch baking dish.

In a small bowl, mix together flour (1 tablespoon), white sugar, and cinnamon. Sprinkle on apples, and pour water over the top.

In a large bowl, mix oats, brown sugar, baking powder, baking soda, remaining flour, cannabutter, and tincture. Stir until fully combined, and spread the mixture evenly over the apples.

Bake for 45 minutes, and serve warm. Top with ice cream (optional).
Canna-Caramel Apples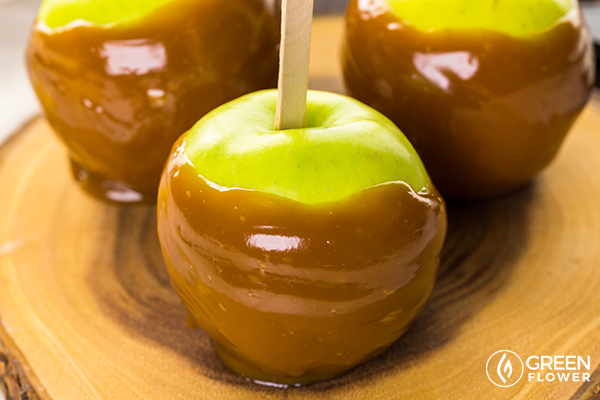 This classic recipe from Edibles Magazine is the grownup version of your favorite fair snack. Top with nuts or drizzle with chocolate for additional flavor.
Ingredients:
2 cups of heavy cream

2 ¼ cups of sugar

6 tablespoons of cannabutter

1 ¼ cups of light corn syrup

½ teaspoon of Kosher salt

½ teaspoon of pure vanilla extract

6 apples (your choice)

6 crafting sticks
Directions:
In a large saucepan, mix heavy cream, sugar, corn syrup, and cannabutter. Bring to a boil, stirring continuously until the sugar has fully dissolved. Reduce heat to medium and cook for 15 minutes, stirring occasionally.

Rinse the apples and dry well. Insert a crafting stick into each one, and set aside on a parchment paper

Remove caramel sauce from heat, and stir in vanilla and salt. Dip each apple twice, and set on parchment paper. Cover and refrigerate for at least eight hours.
---
Sign up for our newsletter