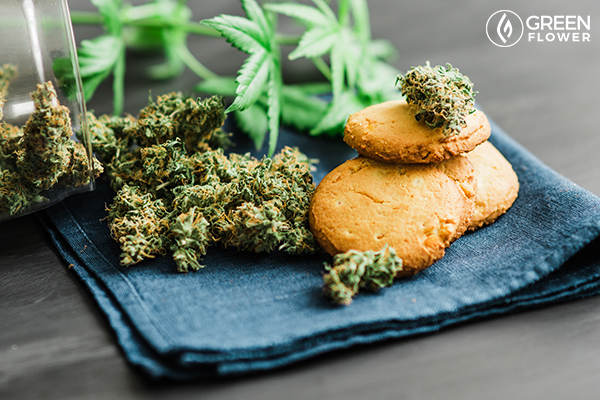 The start of a new school year is well underway, which means that many a PTA will be organizing fundraisers to keep classrooms stocked and sports teams running.
It's got us thinking: can you imagine the fundraising potential if cannabis bake sales were permitted nationwide (adults only of course)?
Until the legal system catches up, try one of these bake-sale inspired cannabis edibles the next time you feel like whipping up something tasty in the kitchen.
Or, feel free to substitute non-medicated butter in any of these recipes, and they'll be sure to fly off the table at your next bake sale.
Old-Fashioned Peanut Butter Canna-Cookies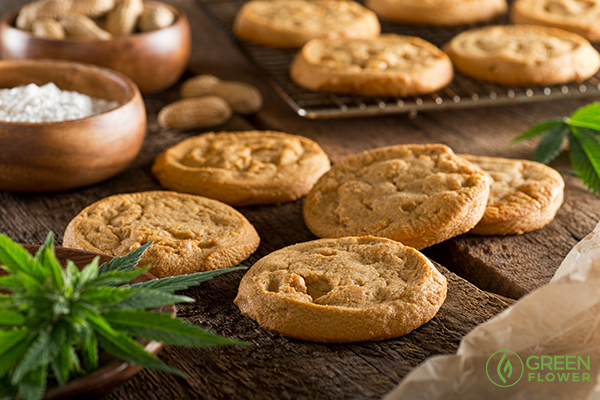 This amazing recipe from The Cannabist is the peanut butter cookie of your childhood. The familiar texture that always somehow finds the perfect intersection of chewy and crispy with each bite. This old-fashioned recipe will get you medicated while also delivering a dose of delicious nostalgia.
Ingredients:
1 cup of peanut butter
4 tablespoons of canna-butter, softened
½ cup of white sugar
½ cup of brown sugar
½ cup of flour
1 egg
Pinch of salt
Directions:
Preheat oven to 340 degrees F. Line a cookie sheet with parchment paper and set aside.
Mix all of the ingredients in a medium-sized bowl. Stir until smooth.
Separate the cookie dough into 15 balls of the same size. Flatten the dough by pressing gently, and use a fork to create hash marks for extra crispiness.
Bake about 8-10 minutes or until the edges start to turn golden brown. Allow to cool for at least 15 minutes (cookies will become firmer as they cool).
Makes 15 medicated cookies.
Cannabis-Infused Bombshell Blondies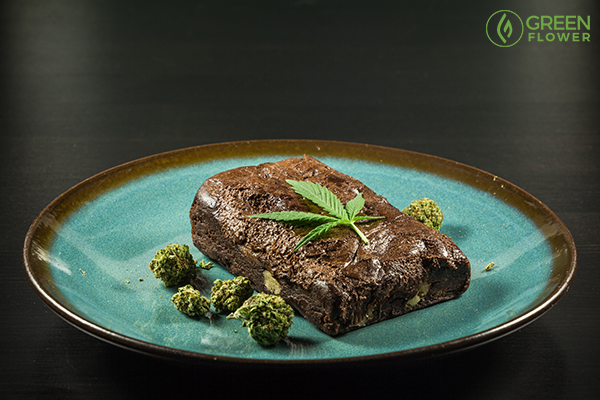 No chocolate? No problem! Dark brown sugar gives these blonde brownies the signature molasses-y flavor that mixes beautifully with cannabutter. Enjoy as basic blondies or throw in some add-ins for extra texture.
Ingredients:
½ cup of cannabutter
1 cup of packed brown sugar (dark brown sugar adds the best flavor)
1 egg, lightly beaten
1 teaspoon of vanilla
1/2 teaspoon of baking powder
1/8 teaspoon of baking soda
Pinch of salt
1 cup of all-purpose flour
1/3 cup of butterscotch chips, chocolate chips, or walnuts (your choice!)
Directions:
Preheat the oven to 350 degrees F. Lightly grease and flour a square 8×8 pan, and set aside.
In a small bowl, whisk together melted cannabutter and brown sugar. Add the egg and vanilla extract while continuing to whisk.
Mix in flour, baking powder, baking soda, and salt. Stir until fully incorporated. Add nuts, chips, or whatever other extra mix-ins you prefer.
Pour batter into greased pan and spread evenly. Bake for 25-30 minutes, or until a toothpick inserted into the middle comes out clean. Cut into squares and serve.
Mary Jane's Magic Squares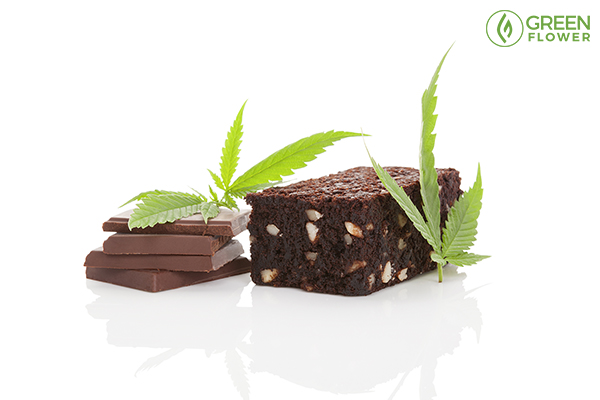 These magic squares are as dank as they are delicious. Substitute butterscotch chips for half of the chocolate chips for even more variety in flavor.
Ingredients:
½ cup of cannabutter
1 ½ cups of graham cracker crumbs
1 can (14 oz.) of sweetened condensed milk
2 cups of semisweet chocolate chips
1 cups of flaked coconut
1 cup of chopped nuts (optional)
Directions:
Preheat oven to 350 degrees F. Lightly grease a 13×9 inch baking pan with butter or cooking spray.
Mix graham cracker crumbs with the melted cannabutter, and press into the bottom of the pan to form a crust.
Pour sweetened condensed milk over the crust. Add even layers of chocolate chips, coconut, and nuts. Press down with a fork firmly before baking.
Bake for 25 minutes or until the top becomes a light toasty brown. Cut into squares and serve at room temperature.
Lemon Blackberry Cannabis Pound Cake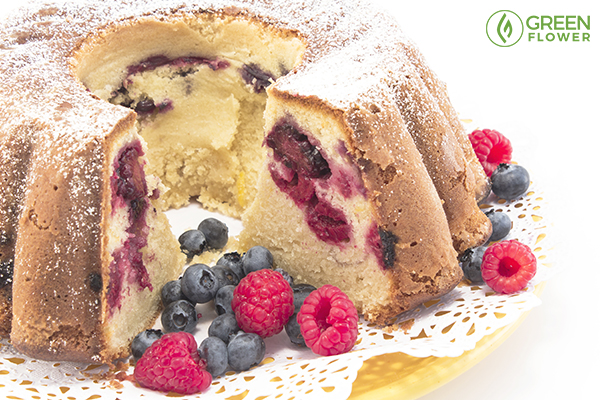 This infused take on a traditional pound cake manages to be refreshing in flavor while packing a hefty punch. Take care with dosing this one, especially if you choose to increase the potency by using cannamilk in addition to cannabutter.
Ingredients:
For cake:
½ cup of cannabutter, melted
1 cup of sugar
2 large eggs
1 lemon (zest and juice)
1 ½ cups of all-purpose flour
1 teaspoon of baking powder
¼ teaspoon of salt
½ cup of milk (or cannamilk for an even more potent cake)
1 cup of fresh or frozen (unthawed) blackberries
For glaze:
¼ cup of lemon juice
¼ cup of confectioner's sugar
Directions:
Preheat oven to 350 degrees F. Grease an 8×4 inch loaf pan and set aside.
In a large bowl, combine butter and sugar. Add eggs one at a time, stirring between each. Stir in lemon zest and juice until well mixed.
Mix together flour, baking powder, and salt. Add half to the butter and sugar mixture, and stir until mixed. Add the remaining dry ingredients and mix until incorporated. Lastly, stir in the blackberries.
Pour batter into loaf pan and bake for 50-60 minutes, until golden brown and springy. Remove from pan and set on a wire rack to cool.
Stir together lemon juice and confectioners sugar until smooth. Drizzle over the pound cake before it cools.
Raspberry Oat Canna-Crumb Bars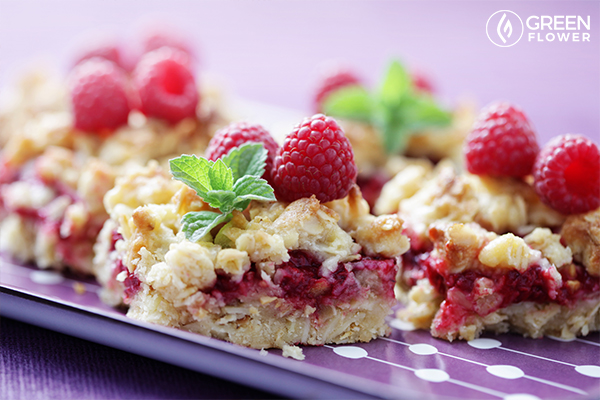 Nothing beats the crumbly texture of raspberry oat bars. Bonus points if you're able to find some Raspberry Cough to enhance this recipe even more.
Ingredients:
1 cup plus 1 teaspoon of all purpose flour

¾ cup of old-fashioned rolled oats

cup of granulated sugar

¼ cup of light brown sugar

¼ teaspoon of salt

½ cup of melted cannabutter

1 teaspoon of vanilla extract

1 cup of raspberry preserves or jelly
Directions:
Preheat oven to 175 degrees F. Line an 8×8 inch with aluminum foil, leaving enough extra to hang over the sides. Grease with cooking spray and set aside.

In a large bowl, mix flour, oats, brown sugar, granulated sugar, and salt. Add melted cannabutter and vanilla extract, and mix into the dry ingredients.

Set aside 1 cup of crumb mixture, and press the rest into the bottom of the greased pan to form a crust.

Spread jam evenly over the crust, and top with reserved crumb mixture.

Bake for 25 to 30 minutes, until the top is golden brown and jam is starting to bubble up.

To prevent the bars from falling apart, allow to fully cool before cutting into squares and serving.
---
Sign up for our newsletter