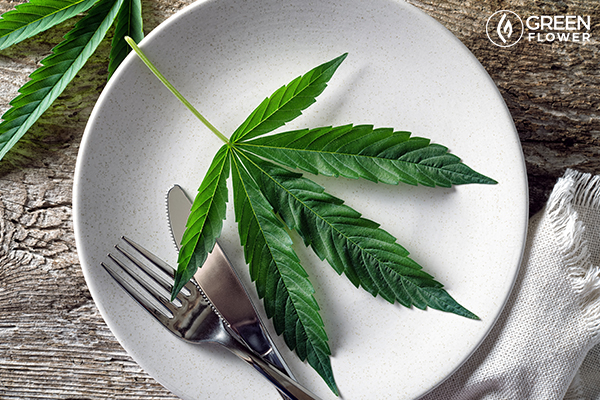 For some of us, the best part of each morning is a little roast and toast as the sun comes up.
Take your wake and bake to the next level by infusing your breakfast with cannabis. Cooking with cannabis oil or cannabutter will make sure that the most important meal of your day is satisfying in more ways than one.
Start your morning on the right foot. Grab a cup of coffee (or cocoa) and head to the kitchen with us to cook up a delicious cannabis-infused breakfast.
New to cannabis cooking? Want to better control the dose? Check out this step-by-step video tutorial to help get started.
Please enjoy responsibly:
Blueberry Muffins with Cannabutter Streusel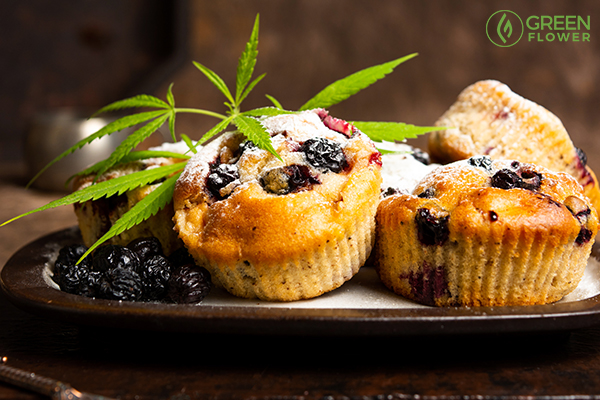 There's nothing quite like starting your day with a cup of coffee and a warm blueberry muffin. Take your morning muffin to the next level by adding a cannabis-infused streusel to the top. It's sweet perfection with a crunch.
Ingredients:
¼ cup of butter, softened
cup of sugar
1 egg
1 teaspoon of vanilla extract
2 cups of all-purpose flour
4 teaspoons of baking powder
½ teaspoon of salt
1 cup milk
1 ½ cups fresh or frozen blueberries
Streusel:
½ cup of sugar
cup of all-purpose flour
½ teaspoon of ground cinnamon
¼ cup of chilled cannabutter
Directions:
Preheat the oven to 375 degrees F. Cream butter and sugar in a large mixing bowl. Add vanilla and sugar, and mix well.
In a small mixing bowl, combine flour, baking powder, and salt. Add to the wet mixture, along with milk. Add blueberries and gently combine.
To make the streusel topping, combine sugar, flour, and cinnamon in a small bowl. Cut in butter, and mix with fingers until crumbly, and set aside.
Grease a muffin tin or add liners to the cups. Spoon in muffin batter until the cups are of the way full. Sprinkle streusel topping over the top of each muffin. Bake for 25-30 minutes until lightly browned, and allow to cool on a metal wire rack before serving.
Canna-Veggie Frittata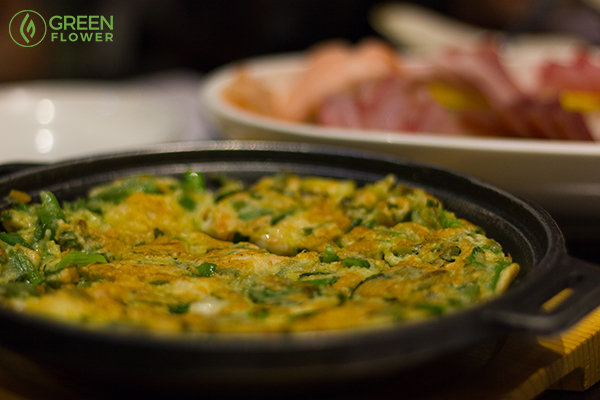 For the health-conscious, it doesn't get any better than a fluffy veggie frittata. Spinach, bell peppers, and onions are sauteed in cannabis oil to provide a mellow yet flavorful base for this grown-up brunch favorite.
Ingredients:
8 large eggs
cup of milk
½ teaspoon of salt
¼ teaspoon of pepper
2 tablespoons of cannabis oil
1 medium red bell pepper, seeded and thinly sliced
½ small red onion, thinly sliced (about ½ cup)
2 cups of baby spinach
4 ounces of feta cheese
Directions:
Preheat the oven to 350 degrees F.
In a large bowl, whisk together eggs and milk. Add salt and pepper.
Heat cannabis oil in a large skillet over medium heat. Add onion and red pepper to the skillet and saute until the vegetables begin to soften. Add spinach and stir until wilted, usually about two to three minutes. Spread out the veggies evenly in the skillet, and slowly pour in the egg mixture. Sprinkle crumbled feta over the top.
Without stirring, heat on medium-low heat until the eggs begin to solidify. Put the skillet in the oven, and bake for 15 minutes. Turn the broiler on high heat, and broil for about two minutes (keep an eye on it to make sure it doesn't burn). Remove from oven, and allow to cool for 5 minutes prior to serving.
Old Fashioned Canna-Pancakes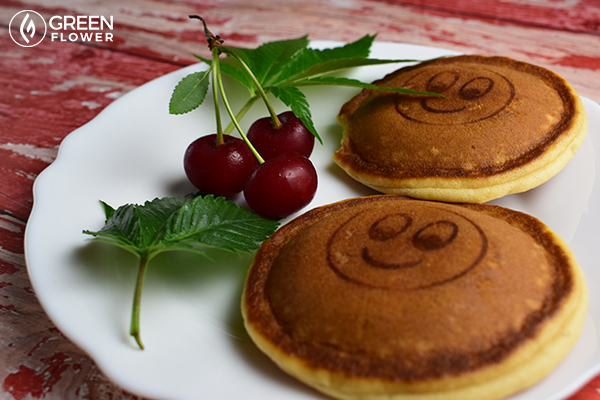 These buttery pancakes made from scratch is the perfect Sunday morning wake and bake breakfast. They're just asking to be eaten at a sun-drenched breakfast table with a hot cup of coffee and a crossword puzzle. Top warm pancakes with cannabutter for an extra kick.
Ingredients:
1 ½ cups of all-purpose flour
3 ½ teaspoons of baking powder
1 teaspoon of salt
1 tablespoon of white sugar
1 ¼ cups of milk
3 tablespoons of cannabutter
1 egg
Directions:
Sift together flour, sugar, salt, and baking powder. Create a well in the center of the mixture, and pour in melted butter, egg, and milk. Stir until smooth.
Heat a lightly greased griddle or frying pan over medium-high heat, and add batter to the pan about ¼ cup at a time. When the pancakes begin to bubble, flip with a spatula to evenly cook the other side. Serve hot, with butter and maple syrup.
Cannabis-Infused Breakfast Quiche
This dish fuses all of your favorite breakfast spread items into one deliciously dank quiche—eggs, ham, cheese, potatoes, and of course, cannabis. The best part: heat up any leftovers (if you've got 'em) for an equally hearty dinner.
Ingredients:
2 (12-ounce) packages of frozen shredded potatoes
cup of melted cannabutter
1 cup of cooked diced ham
1 cup of shredded Monterey Jack cheese
2 eggs
½ cup of heavy whipping cream
Directions:
Preheat oven to 425 degrees F.
Squeeze any excess water from frozen potatoes (cheesecloth works great if you've got it) and in a small bowl, mix with melted cannabutter. Spoon into an ungreased 10-inch pie plate, and press into the bottom and sides. Bake for 25 minutes.
After removing the pan from the oven, evenly layer ham and cheese on top of the potatoes. In a small bowl, beat together eggs and cream, and pour this mixture over the ham and cheese.
Bake for 30 minutes, and serve warm.
Slow Cooker Cannabis Oatmeal
The ultimate set-and-forget breakfast, this oatmeal literally lets you toss your ingredients into a slow cooker (including cannabutter) so it's ready whenever you are the next morning. No mess, and even less stress.
Ingredients:
1 cup of steel cut oats
3 ½ cups of water
1 cup of chopped apple, peeled
½ cup of raisins
 2 tablespoons of cannabutter
1 tablespoon of ground cinnamon
2 tablespoons of brown sugar
1 teaspoon of vanilla extract
Directions:
Add all of the ingredients into the crockpot, and stir to mix until the brown sugar is dissolved. Set the slow cooker to low, and cover; cook for 7 to 8 hours until the oats are softened to your liking.
French Toast with Cannabutter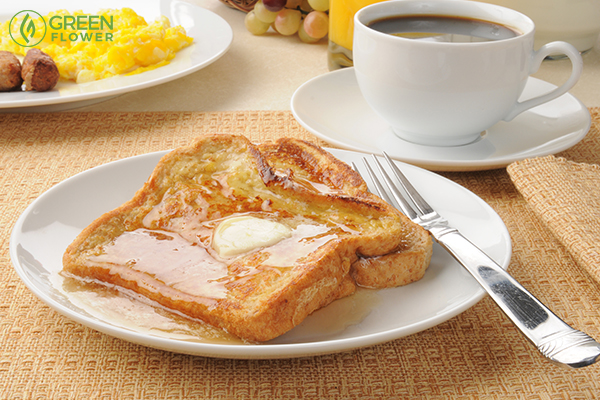 You don't have to get fancy to enjoy a breakfast that leaves you feeling chilled out and ready to start your day. Just spread a little bit of cannabutter on warm french toast for an easy hot breakfast that tastes so much more complicated than it really is.
Ingredients:
2 tablespoons of cannabutter
6-8 thick-cut slices of bread
1 ½ teaspoons of cinnamon
½ cup of milk
¾ teaspoon of vanilla
3 eggs
Maple syrup
Directions:
In a large mixing bowl, crack the eggs and whisk together. Add milk, cinnamon, and vanilla, and continue to whisk until fully blended.
Heat up a non-stick skillet on a medium heat setting.
Submerge each piece of bread into the egg mixture and place on the skillet. Cook each side until golden brown.
Spread a coat of cannabutter to the still-warm french toast. Use more or less according to your desired dosage. Serve with maple syrup, and enjoy.
---
Sign up for our newsletter