Treat your special someone to the best meal in town this Valentine's Day, no reservations needed.
Valentine's Day is the perfect time to pull out all the stops when it comes to showing that special someone how you feel about them by whipping up a cannabis-infused meal that neither of you will soon forget.
You may choose to infuse just one of the options below with cannabis, or if you and your partner have a high tolerance, why not go all the way with all four courses?
Appetizer: Canna-Cream Cheese Stuffed Mushrooms
The earthy flavors of mushrooms and cannabis blend together so naturally, you'll forget you're eating edibles. Feel free to add cooked chorizo to the cream cheese mixture if you prefer a bite of sausage in your stuffed mushrooms, but these are so delicious that you won't miss it.
Ingredients:
12 small to medium-sized white mushrooms (cleaned, stems removed)
Mushroom stems (chopped)
1-2 tablespoons of cannabutter
½ of a medium white onion (peeled and chopped)
1-2 garlic cloves (minced)
¼ cup of panko breadcrumb
4 ounces of cream cheese
½ cup of grated parmesan
Salt and pepper to taste
Directions:
Preheat oven to 340 degrees F.
Heat the cannabutter in a medium saucepan over medium-low heat. Saute onions until soft, about 7-9 minutes. Add mushroom stems, and brown for about 5-7 minutes. Add garlic and continue to stir until browned but not burned.
Put the mushroom and garlic mixture in a large bowl, and set aside to cool. When the mixture is no longer hot, stir in cream cheese, parmesan cheese, and breadcrumbs, along with salt and pepper to taste.
Place mushroom caps on a large baking sheet, and using a small spoon, stuff each one with the cream cheese and mushroom mixture. Bake about 15 to 20 minutes, until the mushrooms begin to brown and liquid begins to pool beneath the mushroom caps.
Salad: Light Arugula Salad with Lemon and Parmesan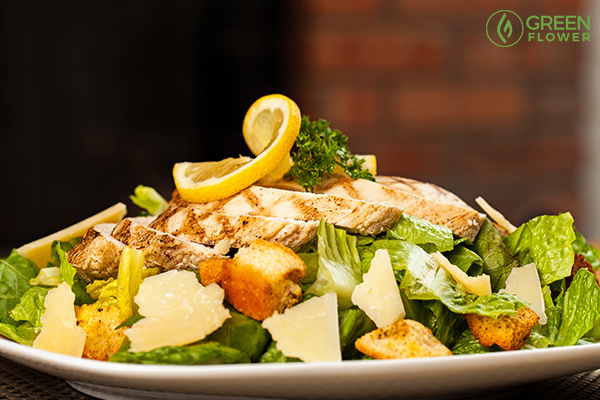 As an interlude between courses, enjoy this light yet flavorful salad. The peppery flavor of arugula plays nicely with the lemon and parmesan, and the canna-oil provides a base so you can drizzle the dressing to your heart's content. Add cracked black pepper at the end for some extra pop.
Ingredients:
2 tablespoons of canna-oil
2 tablespoons of fresh lemon juice
1 teaspoon of honey
½ teaspoon of kosher salt
½ teaspoon of freshly ground black pepper
4 cups of arugula
¼ cup of shaved parmesan cheese
Directions:
In a medium-sized bowl, whisk together canna-oil, lemon juice, honey, salt, and pepper. Add arugula to the bowl, and toss until fully coated. Serve with shaved Parmesan and pepper to taste.
Main Course: Infused Chicken Piccata with Garlicky Mashed Potatoes and Cannabutter-Sauteed Green Beans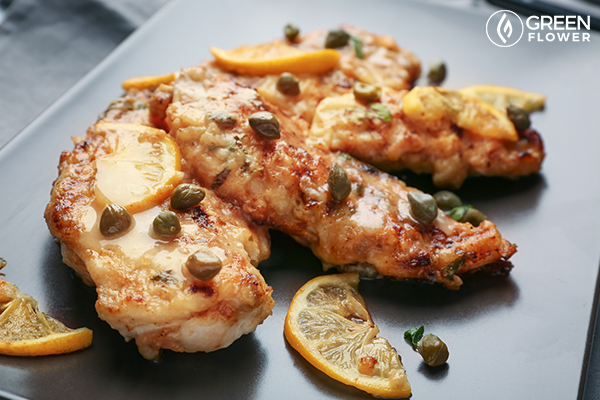 This is a classic combination that will leave you satisfied yet wanting more. Be warned the following recipes are not for the faint of heart although a perfect match for garlic lovers.
Pro tip: You're going to want to break out some crusty bread to sop up any leftover cannabis-caper piccata sauce.
Chicken Piccata
Ingredients:
2 chicken breasts (boneless, skinless)
cup of all-purpose flour
3 tablespoons of parmesan cheese (finely grated)
2 tablespoons of cannabutter
3 tablespoons of dry, white wine (Pinot Grigio or Sauvignon Blanc work well)
½ tablespoon of lemon zest (from half a lemon)
1 tablespoon of lemon juice (from half a lemon)
4 to 6 slices of lemon (thin)
¼ cup of chicken broth
1 tablespoon of capers
Salt and black pepper to taste
Directions:
Place one chicken breast in a gallon-sized ziploc bag (or sandwiched between a piece of plastic wrap that's been folded in half). Using a meat mallet, pound the chicken breast to a ½ inch thickness, and repeat with the second breast.
Sprinkle both sides of the chicken breast with salt, pepper, and parmesan cheese, and pat so it adheres to the meat. Dredge with flour, shaking off any excess.
Heat up a large skillet over medium-high heat, and add cannabutter. Swirl the butter around the bottom of the pan until it is covered completely.
When the butter begins to turn brown, add the chicken breasts. Cook each side for about 2-3 minutes, until the chicken begins to brown. Place on a plate, and cover with foil.
Add white wine and lemon juice to the skillet, scraping up the browned bits from the bottom of the pan. Once it's reduced down to about a tablespoon of sauce, add chicken broth, capers, and lemon zest. Allow to simmer until it's reduced by about half, and add lemon slices.
Season with salt and pepper, and pour the sauce over plated chicken breast.
Garlicky Mashed Potatoes
Ingredients:
6 cups of water
3 large russet potatoes (peeled and cut into 2-inch chunks)
2-3 cloves of garlic (crushed)
2 teaspoon of salt
½ teaspoon of black pepper
6 tablespoons of cannabutter
½ cup of half and half
½ cup of parmesan cheese
DIrections:
Add the water in a large pot, and bring to a rolling boil. Add the potatoes and cook until fork tender, about 10 minutes. Drain the potatoes, and transfer them to a large bowl.
In a medium saucepan, heat half and half and garlic over medium heat until it simmers. Remove from heat, and set aside.
With a potato masher (or a fork in a pinch), mash the potatoes until they're close to reaching your preferred consistency. Add the garlic cream, parmesan, and cannabutter, and mash until mostly smooth. Add salt and pepper, and serve immediately.
Sauteed Green Beans
Ingredients:
3 cups of water
½ pound of fresh green beans (trimmed)
1 small onion (thinly sliced)
1 garlic clove
½ teaspoon of canna-oil
½ teaspoon of paprika
¼ teaspoon of salt
teaspoon of cayenne pepper (optional for a kick)
Directions:
Bring water to a boil in a large saucepan, and add the green beans. Cook, covered, for three minutes, and drain.
In a large skillet, heat up the canna-oil over medium heat. Add onion, and stir for about five minutes; add garlic, and cook until browned but not burned. Add salt, pepper, paprika, cayenne, and beans. Stir until heated, and serve warm.
Dessert: Canna-Chocolate Mousse For Two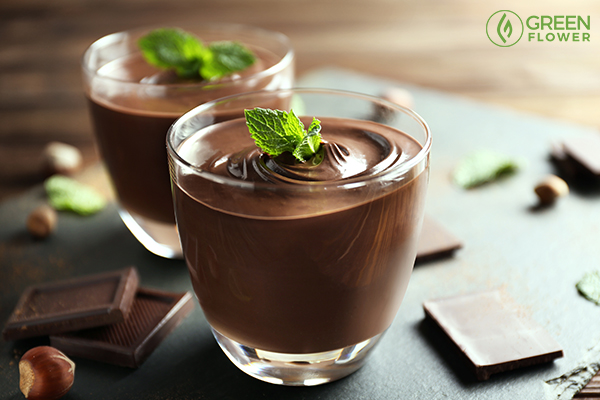 Finish off your meal the right way with this ultra-romantic canna-chocolate mousse. It's the sweet, decadent cherry on top of a delicious meal that the two of you will be talking about for years to come.
Ingredients:
1 large egg yolk (separated from the white)
1 tablespoon of powdered sugar
½ cup of heavy cream
5 ounces of milk chocolate chips (about a cup)
1 tablespoon of cannabutter
Chocolate shavings (optional)
Directions:
Pour the heavy cream into a medium-sized bowl, and place the metal beaters from a hand mixer into the bowl. Refrigerate while you're completing the rest of the steps.
Pour the chocolate chips into a microwave safe bowl and add the cannabutter. Turn the power down to 50 percent and microwave in 20 second increments until the about of the mixture has melted, stirring between each stint. Stir until smooth (not grainy), and stir in egg yolk.
Moving quickly before the chocolate hardens, whip the chilled cream with a hand mixer until it forms soft peaks. Add the chocolate mixture and powdered sugar, and mix until fully incorporated (at most 15 seconds).
Serve in two small bowls, and garnish with chocolate shavings if you desire.
---
Sign up for our newsletter