Is there a better way to get that warm and fuzzy feeling all over than by snuggling up with a bowl of delicious cannabis-infused soup?
We think not.
Give one of these recipes a try the next time you're looking for something tasty to warm your body and soul.
Many of these recipes call for cannabutter, and you can find an easy recipe for that here.
Vermont Canna-Cheddar Ale Soup

This soup is a love letter to the Green Mountain State in a bowl. Vermont is known for its world-class cheddar cheese, and for being one of the OG states to embrace the cannabis lifestyle. This creamy, rich soup pays tribute to the newly legalized state in the best way possible.
Ingredients:
4 slices of bacon
4 tablespoons of cannabutter
½ cup of onion (minced)
¼ cup of carrot (minced)
¼ cup of celery (minced)
1 small bay leaf
cup of all-purpose flour
1 (12-ounce) bottle of ale
2½ cups of milk
1 (14-ounce) can of chicken broth
1 teaspoon of dry mustard
1 pound of sharp cheddar cheese
Salt and pepper to taste
Directions:
Cook bacon on stovetop, and set aside. Crumble when cool enough to handle.
Melt cannabutter in a large saucepan over medium heat. Add onion, celery, carrot, and bay leaf; stir continuously until vegetables are tender and translucent (about 4-5 minutes).
Add flour, and stir for about three minutes.
Pour in ale, and whisk for about two minutes until bubbly and thickened. Whisk in milk, dry mustard, and chicken broth. Bring to a simmer, while stirring frequently.
Lower heat, and add cheese one small handful at a time while whisking. Keep stirring until the cheese is fully melted, but don't allow the mixture to boil.
Remove from heat, and discard bay leaf. Garnish with bacon and a sprinkle of cheddar cheese.
Classic Chili Con Cheeba

The perfect tailgating dish kicked up a notch for adult consumption. The only thing better than this cannabis-infused chili might be the incredible way your house smells while it's cooking.
Ingredients:
1 lb. of ground beef
1 cup of yellow onion (diced)
2 green bell peppers (diced)
1 16 oz. can of red kidney beans, drained and rinsed
1 6 oz. can of tomato paste
2 14 oz. cans of diced tomatoes
2 teaspoons of cumin
1 tablespoon of chili powder
1 tablespoon of garlic (minced)
1 teaspoon of salt
1 teaspoon of black pepper
1 teaspoon of oregano
¼ teaspoon of cayenne pepper
1 tablespoon of olive oil
3 cups of beef broth
¼ cup of cannabis-infused oil or butter
Directions:
In a large saucepan, saute onion, garlic in olive oil until lightly browned. Add salt and pepper.
Add ground beef to the pan and cook over medium heat until browned.
Drain and rinse kidney beans in a strainer under cold water.
Transfer onions and beef mixture to a large stockpot. Add green bell pepper, kidney beans, tomato paste, diced tomatoes, cumin, chili powder, oregano, and cayenne pepper. Stir to mix.
Add beef broth, and bring to a simmer. Allow to cook until chili reaches your preferred consistency, typically 20-25 minutes. Stir often.
Remove from heat. Add cannabis oil or butter, and mix to fully incorporate.
Serve in bowls or mugs, and top with sour cream, cheese, and/or green onions.
Medicated Butternut Squash Soup

Herb.co's take on this smooth and creamy classic soup is not to be missed. Butternut squash is a fall staple, and there's no reason it should be saved for Thanksgiving. This soup tastes like the feeling of snuggling under a cozy blanket on a rainy fall day.
Ingredients:
1 (2 to 3 pound) butternut squash, peeled and seeded
1 tablespoon of unmedicated unsalted butter
1 teaspoon of vegetable oil
1 medium white onion (small dice)
1 small red pepper (small dice)
5 cups of low sodium chicken stock
Pinch of nutmeg
Salt and pepper
1 1⁄2 tablespoons of cannabutter
Directions:
Large dice the squash into 1-inch chunks. Set aside.
In a large stockpot, heat unmedicated butter and vegetable oil. Add onion, red pepper, and a small pinch of salt. Sauce until the onion is tender and translucent (about 8 minutes).
Add squash and chicken stock, and bring to a simmer. Cook until squash is tender (usually 15 to 20 minutes).
Use a slotted spoon to remove squash chunks from the stockpot. Place them into a blender, and puree. Return squash to the stockpot, and add salt, pepper, and nutmeg.
Add cannabutter, and stir until fully incorporated (about 5 minutes). Pour into bowls and enjoy with a dollop of sour cream or creme fraiche.
Tuscan Style Cannabis Soup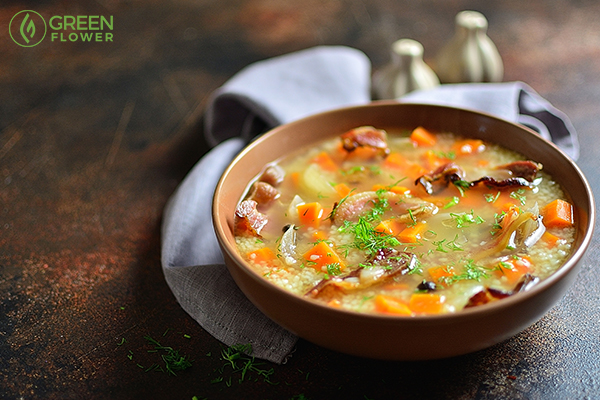 This Tuscan style dish is infused with enough cannabis oil to make you feel like you're floating to Napoli. Bonus points if you enjoy a bowl of this hearty soup with breadsticks brushed with garlic cannabutter.
Ingredients:
4 slices of bacon, diced
1 pound of spicy Italian sausage (casing removed)
1 tablespoon of olive oil (medicated or non)
2 cloves garlic (minced)
1 onion (diced)
4 cups of chicken broth
3 russet potatoes (peeled and thinly sliced)
3 cups of baby spinach
1 1/2 cups of heavy cream
2 tablespoons of cannabis oil
Salt and pepper (to taste)
Directions:
Cook bacon in a large skillet. When it has reached a crispy texture, remove and set aside on a paper towel-lined plate.
Add Italian sausage to the skillet and cook until lightly browned. Break up larger chunks while cooking until it reaches a somewhat crumbly consistency. Drain fat, and set aside.
In a large stockpot, heat up the olive oil over medium heat. Add onion and garlic, and stir; cook until onion is translucent and tender, typically about 2-3 minutes.
Add chicken broth and bring to a boil. Stir in potatoes; cook until fork tender (about 10 minutes).
Add sausage and spinach. Cook for 1-2 minutes until spinach begins to wilt. Add heavy cream, and stir until fully heated. Add cannabis oil and mix well. Season with salt and pepper to taste.
Serve immediately, and garnish with crumbled bacon.
Chicken and Mushroom Herb Soup

This creamy, savory chicken soup radiates comfort from the inside out. It's good for the soul, good for the body, and the addition of cannabis-infused butter brings that snuggled-up feeling from great to exceptional.
Ingredients:
1 tablespoon of olive oil (medicated or non)
8 ounces boneless, skinless chicken thighs (cut into 1-inch chunks)
Kosher salt and freshly ground black pepper
2 tablespoons of cannabutter
3 cloves of garlic (minced)
8 ounces of cremini mushrooms (thinly sliced)
1 yellow onion (diced)
3 carrots (peeled and diced)
2 stalks of celery (diced)
½ teaspoon of dried thyme
¼ cup of all-purpose flour
4 cups of chicken stock
1 bay leaf
½ cup of half and half
2 tablespoons of chopped fresh parsley leaves (optional)
1 sprig of rosemary (optional)
Directions:
Heat up olive oil in a large stockpot. Season chunks of chicken thighs with salt and pepper, and add to the pot. Cook until golden brown, about 2-3 minutes. Remove from pot, and set aside.
Melt cannabutter in the stockpot over medium heat. Add onion, garlic, mushrooms, carrots, and celery; cook 2-3 minutes until tender. Add thyme and cook until fragrant.
Add flour, and whisk until it reaches a light brown color. Keep whisking, and add chicken stock, bay leaf, and chicken chunks. Whisk constantly, and cook about 4-5 minutes until mixture has slightly thickened.
Add half and half, and stir for about a minute until fully heated. Season with salt and pepper to taste.
Serve immediately. Garnish with parsley and/or rosemary.
---
Sign up for our newsletter