With Valentine's Day quickly approaching, you may find yourself looking for a way to show that special someone how much you care without breaking the bank on expensive gifts.
Don't worry, Romeo (or Juliet); we've got you covered.
Step into the kitchen and whip up some of these sweet treats to share with the sweetheart in your life.
After sampling a few of these perfectly potent desserts, the two of you will be more than ready to spend the rest of the evening floating away together on cloud nine.
Red Velvet Whoopie Pies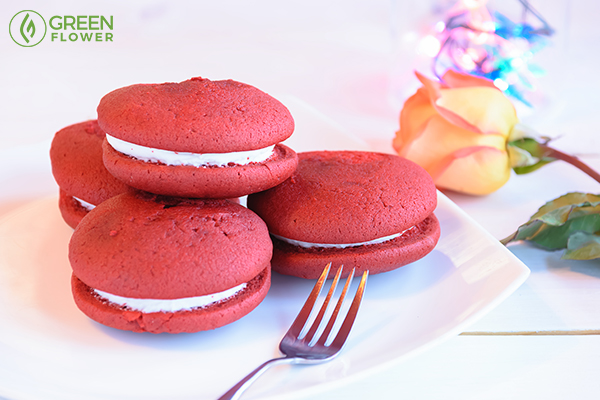 This Cupid-approved take on the classic sandwich dessert is as dynamic as it is delicious. Cannabutter takes both the cookies and the cream cheese frosting to the next level, so be sure to approach these treats with caution if you have any plans beyond the couch.
Ingredients:
Red velvet cakes:
2 cups of all-purpose flour
3 tablespoons of unsweetened cocoa powder
1 teaspoon of baking soda
½ teaspoon of salt
½ cup of cannabutter (softened)
1 cup of light brown sugar (packed)
1 large egg
cup of buttermilk (room temperature)
2 teaspoons of pure vanilla extract
Red food coloring (gel has best results)
Cannabis cream cheese filling:
½ cup of cannabutter (softened)
8 ounces cream cheese (softened)
2 cups of confectioners sugar
2 tsp of vanilla extract
Directions:
Preheat oven to 350 degrees F. Line two large sheet pans with parchment paper and set aside.
Mix together flour, baking soda, cocoa, and salt.
With a hand mixer or stand mixer, beat the cannabutter at a medium-high speed until it's smooth and creamy (about a minute). Add the brown sugar, and continue to beat for about a minute until the mixture becomes fluffy. Add the egg and turn the mixer up to high speed, scraping the sides of the mixing bowl. Add vanilla and buttermilk (don't worry if the mixture seems to curdle).
Turn the mixer on a low speed, and carefully add the dry ingredients to the wet butter mixture. Once it appears to be combined, add about a teaspoon of food coloring and blend.
Scoop the batter onto the cookie sheets, about 3 inches apart. Bake for 10-12 minutes, and allow to cool completely.
While the cookies are baking, use your mixer to beat the softened cream cheese on a high speed until it becomes smooth and creamy. Add butter, and beat for an additional minute. Add vanilla and carefully pour in the confectioners' sugar. Beat on medium-high until the mixture is creamy and fully blended.
Pair the cookies up according to size. Spread a liberal helping of cannabis cream cheese on the flat side of one cookie, and use the other to create a sandwich. If desired, sprinkle with confectioners sugar prior to serving.
Canna-Chocolate Dipped Strawberries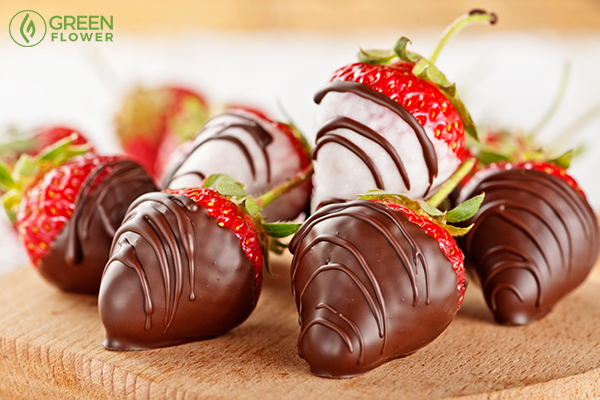 When they developed this recipe, The Cannabist took the quintessential Valentine's treat and turned it into a medicated masterpiece. These dipped berries are too sweet and juicy not to share.
Ingredients:
2 tablespoons of canna-coconut oil
1½ cups of chocolate chips
12 strawberries (with stems)
Directions:
Line a sheet pan with parchment paper, and set aside.
In a medium sized, microwave-safe bowl, mix canna-coconut oil and chocolate chips. Microwave for 30 seconds; remove and stir. Repeat until chocolate is smooth, and allow to sit until it cools to room temperature.
Dip strawberries into the chocolate, and set on parchment paper to harden. Let cool for at least 30 minutes before enjoying.
Mocha-Mota Cake Pops
These pretty-as-you-please cake pops combine coffee, cannabis, and cocoa to create the perfect mini-dessert. Bonus points if you wait to decorate them with your partner.
Ingredients:
2 tablespoons of instant espresso
1 cups of water
1 box of chocolate cake mix
½ cup of cannaoil
3 eggs
1 container of frosting (whipped vanilla or cream cheese work well)
1 14 oz bag of red candy melts or coating wafers
1 14 oz bag of white candy melts or coating wafers
1 teaspoon of shortening
40 paper lollipop sticks
Red, pink, and white candy sprinkles
Red sugar
1 large block of foam
Directions:
Preheat oven to 350 degrees F. Grease a 9×13 inch cake pan, and set aside.
In a small bowl, mix instant coffee and water.
Bake the cake according to the directions on the package, substituting coffee for water in the recipe. Allow to cool entirely on a cooling rack.
Line a large cookie sheet with waxed paper. Using your fingers, crumble the cake into a bowl. Add frosting, and mix until it reaches a dough-like consistency. Roll small scoops of dough in the palm of your hands until they are formed into balls. Place on the cookie sheet, and place in the freezer for about 15 minutes.
Microwave red candy melts in a heat proof bowl according to the directions on the candy bag, and stir in half of the shortening until the mixture becomes smooth. Repeat with the white candy melts.
Remove cake balls from the freezer and place paper sticks into the top of each. Dip each cake pop into the candy coating of your choice, and decorate with candy sugar and sprinkles. Stand the pops up to dry by poking the ends of the paper sticks into the foam block.
Canna-Bananas Foster Bread Pudding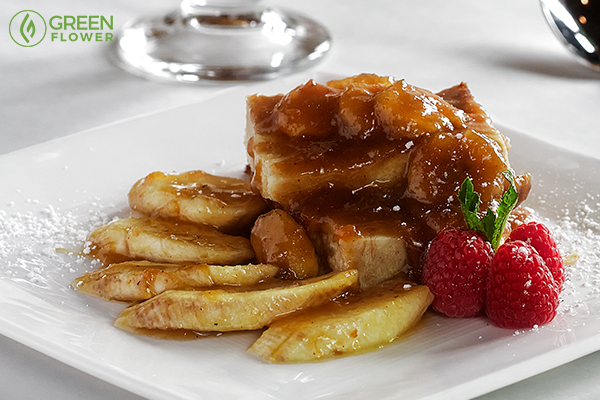 This canna-banana bread pudding isn't for the faint of heart. To create the perfect New Orleans-inspired Valentine's treat, you'll need to light the rum sauce on fire prior to serving. Handle with caution; we think you'll enjoy the result.
Ingredients:
1 loaf of challah, brioche, or french bread (cubed)
3 eggs (lightly beaten)
cup of sugar
2 cups of milk
2 large bananas (peeled and mashed with a fork)
1 tablespoon of vanilla
1 tablespoon of cinnamon
¼ teaspoon of nutmeg
½ cup of pecans (optional)
Cannabis Rum Sauce:
½ cup of dark rum
¼ cup of cannabutter
1 cup of brown sugar
1 teaspoon of cinnamon
5 large bananas (peeled and sliced)
Directions:
Preheat oven to 350 degrees F. When the oven is heated, place pecans on a small cookie sheet (if using), and toast until you notice a light toasty aroma. After they cool, roughly chop nuts. Turn down the oven to 325 degrees F.
Grease a 9×13 inch sheet pan, and evenly add the bread cubes to the bottom.
Whisk together eggs, mashed bananas, vanilla, milk, sugar, cinnamon, and nutmeg in a large bowl. Pour the mixture over the bread cubes.
Cover with aluminum foil, and bake for 45 minutes. Remove foil, and bake for an additional 20-30 minutes.
While the bread mixture is baking, heat cannabutter over medium heat in a large skillet. Add brown sugar, sliced bananas, and cinnamon. Gently saute while stirring for about a minute. Add rum, and stir the sauce.
When the mixture begins to boil slightly, tilt the pan so the sauce pools on one side. Using a long match or lighter, carefully light the sauce aflame. When the flames subside, remove the sauce from heat. (This step allows the alcohol to burn off prior to consumption.)
To serve, scoop the bread pudding into bowls, and top with rum sauce and banana slices. Serve warm.
Making your own cannabis edibles is easier than you might think!
---
Sign up for our newsletter