When it comes to the cannabis industry, the best companies are always going to be the ones that champion human experience and innovation over revenue and exploitation. Heylo Cannabis is one of those companies. Two years ago, I visited their facilities for a tour to learn about CO2 extraction, and I fell in love with everything they represent. Not only do their vape carts taste incredible (their Alien on Moonshine PAX is my favorite PAX pod of all time), but the emphasis they place on education, the creativity they put into their Heylo Sessions, and their simple mission to help people get more out of life makes Heylo everything we hoped cannabis companies would become in the era of legalization.
Community Experience At The Forefront For Heylo
Heylo Cannabis is a processor located in Seattle known for its line of cannabis vape cartridges and topicals paired with education and experiences. They are a small, 12-person team that aims to help consumers enjoy personalized cannabis experiences that go great with particular physical and creative activities.
"We focus on CO2 extraction and high-quality vape cartridges that are chosen to deliver certain experiences. Not only are you experiencing the product, but also you can learn about it, along with pairing it with a Spotify playlist or coloring sheets," says Heylo Founder, CEO, and Chief Extractor Laurel "Lo" Friesen.
"Myself, and my immediate community, were the stoners that would smoke before a hike, or before you go to a concert, or as part of a social gathering, as opposed to just using it before bed or watching TV. There are so many ways you can use cannabis to amplify your experiences, so why not show the world that? Music brings just as many people together as the plant does," said Lo.
For Heylo, the entire reason they're in business is the plant and the community, not the revenue they can earn exploiting both.
Heylo Pivots Event Offerings, Expands Reach
Cannabis events are notorious for not being revenue generators, yet, before COVID-19 shut down the world, Heylo was putting on a monthly concert series. They take local talent, give them a platform, and allow them access to a community of consumer and music fans alike who may have been completely unfamiliar with that artist. Additionally, they were also putting on education events with industry scientists and experts, as well as Q&A with celebrities like Hannibal Burress. He even made them a Spotify playlist to their famed CBG Blend.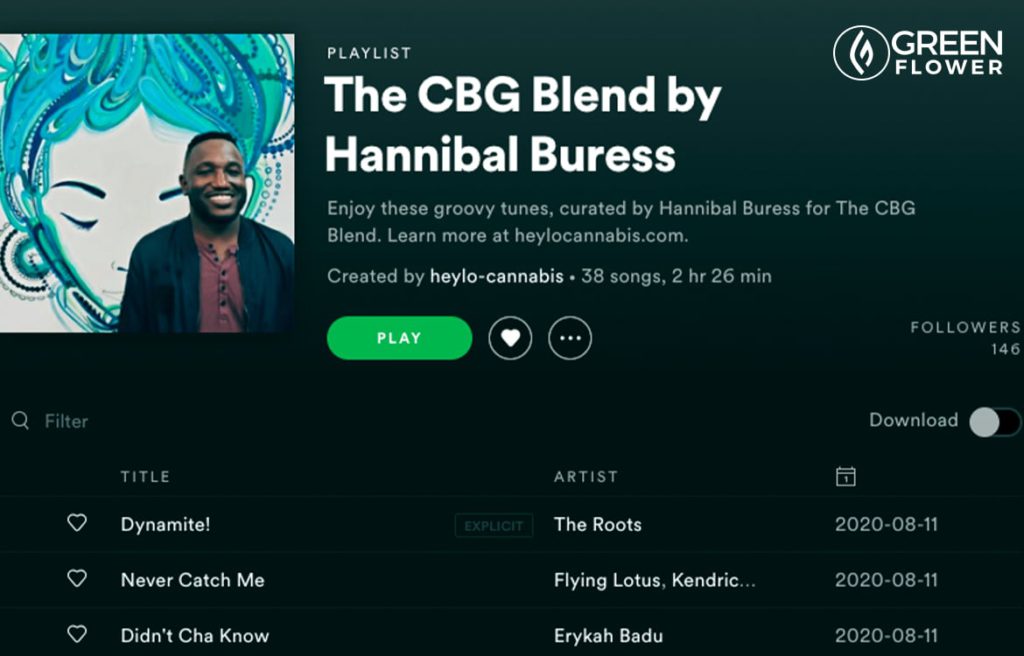 Now, with the pandemic, they've been forced to think outside of the box and innovate yet again. And in some ways, it has been beneficial. Their higherEd educational webinars used to only reach in-store attendees, but now, their virtual webinars are spanning across different countries.
"We don't get the same type of fulfillment, but it is really cool to get people from everywhere," says Daniel Luebke, Heylo's Director of Heylo's Director of Marketing and Brand.
New Vape Offerings, Fitness Series Broadens Brand's Scope
Normally a premium vape cartridge brand at top-shelf pricing, they've also rolled out a less expensive mid-tier line of vape carts at a time when millions of people are still unemployed.
"The pandemic pushed us to release a mid-tier vape offering. Heylo is top shelf, it's a premium product, we use full bud, and frankly, out the door, it's a little more expensive than most of the vapes you find," said Luebke. "But we released a mid-tier vape that has a really competitive price point that still brings a lot of what we want to offer in a cannabis experience. It's called Treehaus, and we haven't been able to keep it on the shelves."
Another huge mission for Heylo is to completely erase the lazy stoner stereotype. In response to the pandemic, they've rolled out a physical fitness series called BODYHIGH, which pairs their vape cartridges with virtual yoga workouts.
"We ourselves maintain a really active lifestyle, and we're really frustrated by the lazy stoner stereotype. That stigma weighs heavily on us, it's something that we want to break," said Luebke. "On top of that, we ourselves recognized that during the pandemic, we were struggling without going to the gym anymore."
Fortunately for Heylo, being ingrained in the local community has led to relationships with many talented fitness and yoga instructors. It makes BODYHIGH a win for everyone involved as it not only creates content for consumers, and gets us all moving again, but also gives fitness instructors, who too have been hit by challenges of the pandemic, a platform to continue working.
"And once again, we're pairing each BODYHIGH with a specific product, and then allowing for Q&A with the instructors," added Luebke.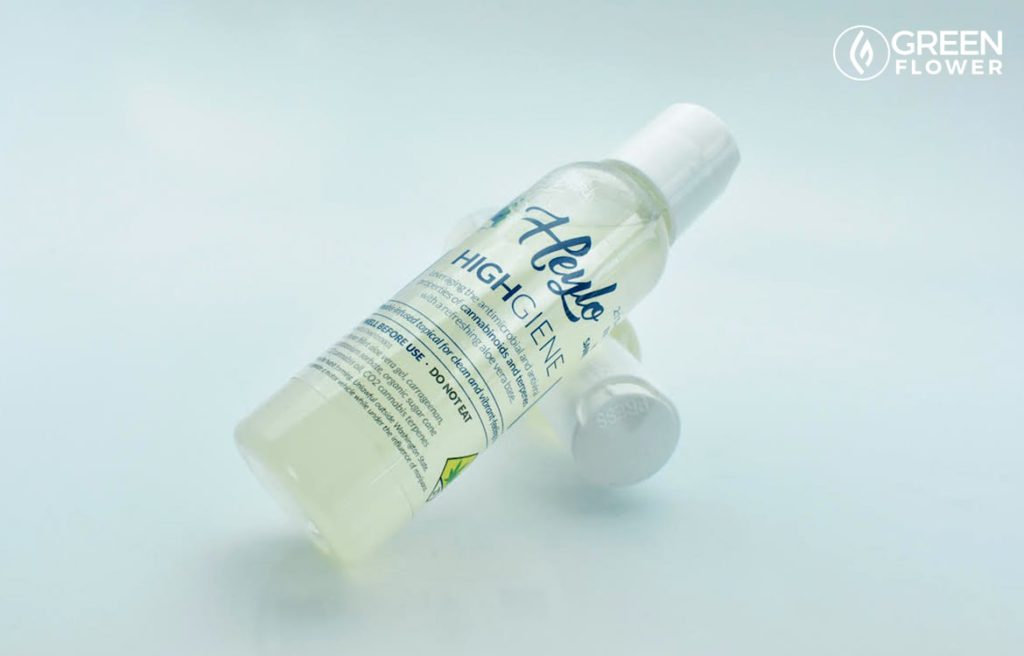 Cannabis Hand Sanitizer Enters The Narrative
In response to a global shortage caused by COVID-19, Heylo started producing hand sanitizers. A funny story, actually, Friesen tells me. "We're a no-waste facility, and we have all this reclaimed alcohol that actually smells like weed. Our team was having a conversation about the pandemic and how there's this hand sanitizer shortage, and [the idea] was born at that moment."
From there Heylo created HIGHGIENE, with the idea of donating it all to hospitals that struggled with sanitizer shortages. However, with the cannabis-scented alcohol, hospitals were unable to accept the donations. So instead, Heylo sold HIGHGIENE to cannabis stores at cost (because you can't give stores a free product), for anyone to buy.
For Luebke and the team, it was another opportunity to change the narrative around cannabis. "We were talking to people outside of the industry that don't use cannabis, and people were like, 'this is the first cannabis product I've ever used,'" he added.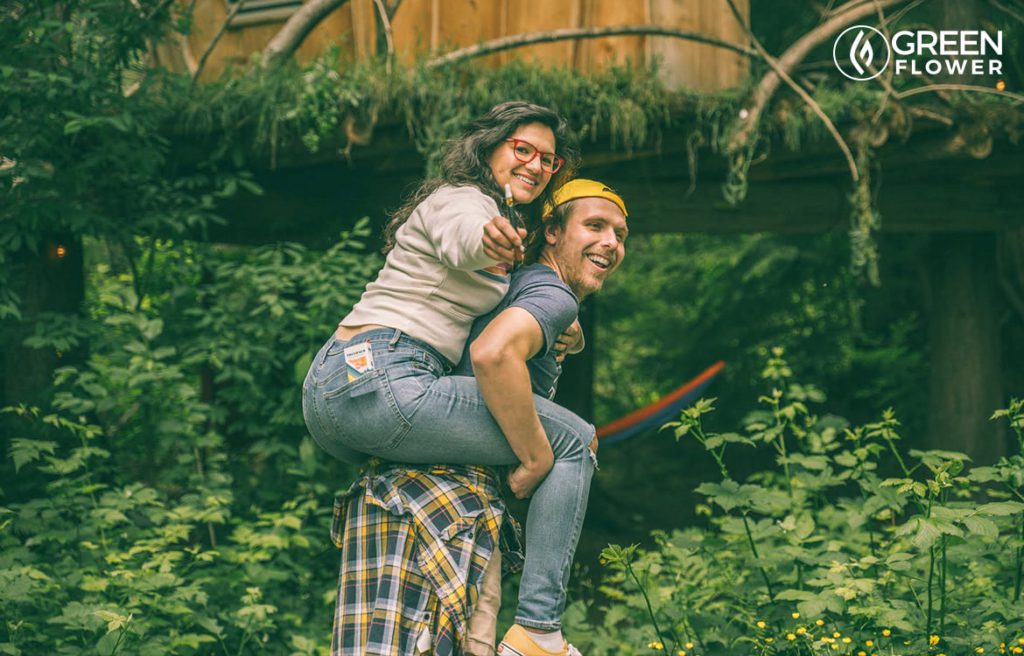 Heylo Looking Forward To Continuing Impactful Conversations On Cannabis & Community
So what does the future look like for Heylo Cannabis? That all depends on the resources available to them. For Lo, the goal remains to support, guide, and hopefully be at the forefront of the conversation about all the things cannabis can do for the world.
"Not just for going to a party or for helping you fall asleep at night, and even helping with people's cancer," he proclaimed. "It goes all the way back to using hemp to clean up entire plots of land that have had radiation, and the plant soaks it up and cleans up the soil, and we can use it again. Or finding ways to use the fiber in cannabis stalks for recyclable packaging. Or using our waste of plant material we've extracted and incorporating it with animal feed and then the whole industry is able to get animal feed from that.
"Owning the conversation around that, because everything we do, is to shine a light on the things people know about cannabis and all the other things people don't know about it."
Sign up for our newsletter