Temporary staffing in the cannabis space is a long-held practice that's finding a moment in the sun during the global pandemic.
Seasonal, short-term hiring is a practice that was well in place before the maturation of the legal market. On the illegal side of the market, temporary jobs traditionally tend to center on cultivation and processing tasks. The market's shift toward the legal side hasn't halted demand for such workers. Instead, the opening of the market led to a flood of wants from emerging cannabis brands.
Numerous cannabis-specific staffing firms fill the demand for talent in the legal industry. Several firms now serve as leaders in the temporary staffing space, with many others vying for their place in the broad hiring market or in specific staffing fields. Temporary staffing would be one area, as is full-time placement and firms dedicated to permanently staffing executives and C-suite leaders. With most cannabis staffing leaders, the companies tend to offer full-time and temporary staffing to satisfy more of the demand.
A Variety Of Temporary Jobs In Cannabis
The growing industry has room for just about everyone, according to staffing leaders.
Vangst, a cannabis staffing leader, listed a variety of temporary jobs on its website in mid-May, including a Joint Roller, Cultivation Associate, and several others in Denver. In Ypsilanti, Michigan, there was a need for Patient Consultants and Receptionists. Other listings across the country sought Accountants, Buckers, and Executive Assistants.
Company Founder and CEO Karson Humiston told Green Flower that plant-touching jobs across the supply chain, from cultivation to delivery, are most in-demand. However, Humiston noted a wealth of work. "We are seeing demand for retail manager, sales manager, customer service, and dispensary manager positions," said the CEO and founder.
The staffing leader added that the length of temporary positions varies by season, client, and type of role.
Other Cannabis Staffing Leaders Agree
Kara Bradford is founder and CEO of Viridian Staffing. Like Vangst, Bradford reported similar staffing needs among Viridian's clients. She said that while a myriad of opportunities awaits, the most common roles offered to temporary workers are ones that find them touching the plant, commonly known as processing.
"It's such a large category," remarked Bradford. She discussed the large umbrella the processing sector covers. "[The processing sector] could be anything from rolling joints to putting dry flower into bags and bags into boxes. It could be taking candies off pans and putting those candies into wrappers." In addition to processing, Bradford noted a high demand for trimmers. She also reported an interest in temporary budtenders, but the market is far lower than processing.
The demand for such work has its peak season, but can be a year-round, temporary role, said Bradford. She noted, "With there being indoor operations, there's demand year-round." That said, autumn is by far the busiest time of year for Viridian. "I just don't sleep much because it's all hands on deck for us," Bradford chuckled.
Other roles help round out the yearly demand for temporary staffing firms. Viridian's CEO noted less common roles, like finance, having brief periods of spiking demand. "It's funny, because those requests always seem to come two to three weeks before taxes are due," she reported.
Wan Lead To A Permanent Job
One of the largest misconceptions about temporary staffing is in its name, according to staffing leaders. Vangt's Humiston said the notion that all roles are short-term "couldn't be farther from the truth." Discussing the company's GIG program geared toward temporary work, Humiston said, "Many Vangsters in temporary and temp-to-hire roles go on to score a full-time job out of their initial gig role."
So far, Vangst has seen 10% of its temporary staff convert to full-time in 2020.
Humiston was also quick to dispel that a temporary role didn't carry as much demand for serious talent. "Temporary roles can be just as competitive as full-time roles, professionalism and commitment are always expected."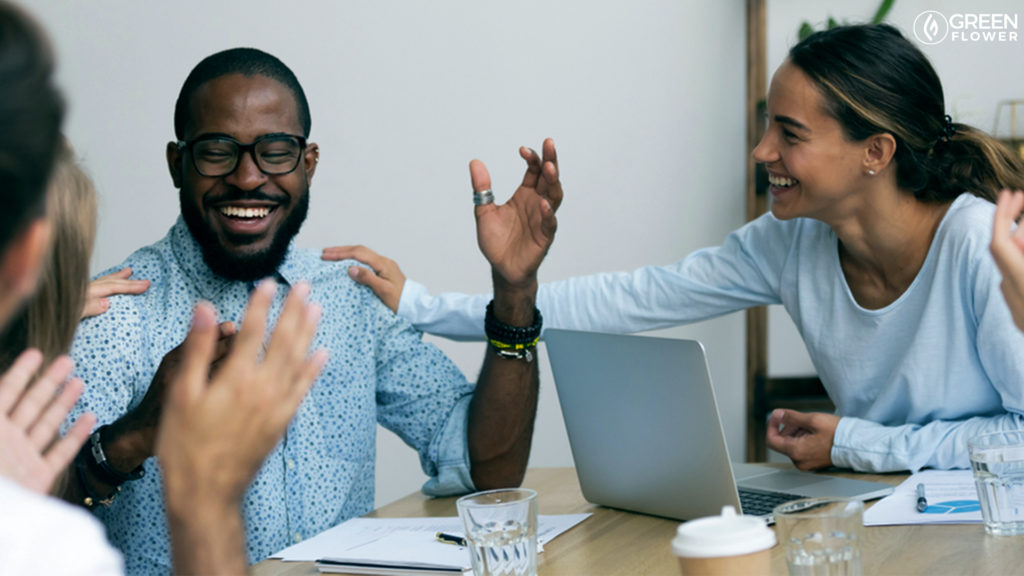 How To Stand Out When Applying & On The Job
Job seekers should approach the temporary job search like any other, said staffing experts. A key overlooked feature of the process is the resume. "Resumes still matter," said CannabizTeam Founder and CEO Liesl Bernard. CannabizTeam's leader said applicants should quantify their success on the resume and update it accordingly.
Viridian Staffing's Bradford echoed similar sentiments. She encouraged people to list all of their work experience. Bradford emphasized the point when concerning work in the cannabis space, even if that experience may not relate to a person's ideal next steps in their career. Bradford remarked, "You would be surprised how many people have cannabis experience and do not put that on their resume."
She said that listing such experience, even if not applicable, can be included in the bottom of the resume in an "additional experience" section. Bradford recalled an instance with one job seeker who had 10 years of legal experience. However, they wanted to work in extraction. After discovering the applicant had a decade of legal experience, an agreement was reached with an employer where the applicant would help in legal and extraction until they were skilled enough to lead an extraction team as they sought.
Vangt's Humiston relayed broad on-the-job performance traits that apply to staffed members in every sector. Humiston said, "Demonstrating high professionalism, ensuring consistent attendance, and, of course, exhibiting great attitude, always."
Optimism Remains Despite Recent Setbacks
The COVID-19 pandemic caused an ongoing shockwave through the market. That said, firms like Vangst and CannabizTeam reported immense jumps in temporary staffing demands in recent months.
As such, experts like CannabizTeam's Bernard emphasizes the potential in the cannabis market, both temporary and long-term.
"Despite the current pandemic, this is an unprecedented and widening employment market as you think about the breadth of the market and its full value chain," explained Bernard.
Discussing the ample opportunities, she mentioned, "The cannabis, CBD, and hemp industries are expanding rapidly, and innovative new products for medical and recreational use are being introduced constantly." Bernard added, "Job seekers should consider the vastness of the market and think outside the box for potential opportunities."
Job seekers should consider getting their resumes in order with a wealth of opportunity and room for innovation in the cannabis space. Temporary and full-time opportunities exist during this downturn, and should trend upward soon enough.
Sign up for our newsletter