The online Cannabis Business Essentials Certificate Program is set to launch June 2, 2020.
With 14 insightful courses taught by industry-leading experts from every sector of cannabis, this set of intelligent tools is the go-to playbook for success in the industry today – enabling you to avoid costly mistakes in areas such as finance, lab-testing, marketing, and much more.
Ready for a quick taste of what's included in the Cannabis Business Essentials? Below are five short excerpts, followed by a complete list of courses included in this comprehensive program.
If you want to stay in the loop on this upcoming Green Flower release and all other developments in cannabis education and training, be sure you are subscribed to our email list.
1) Tips for Entrepreneurs Just Entering the Cannabis Industry
Shane Terry, CEO of Taproot Brands, went from being a TOPGUN flight instructor to running one of the top cannabis operations in Nevada.
In his course, "Cannabis Manufacturing & Processing," he takes you through all the essential tips and nuances to get your operation dialed in.
He also offers tips for entrepreneurs just getting started in the cannabis industry:
2) Challenges in Distribution
Avis Bulbulyan, CEO of SIVA Enterprises, stands on a proverbial mountain of cannabis industry experience. His firsthand expertise includes every aspect of the supply chain, and cannabis distribution is no exception.
In his course, "The Business of Cannabis Distribution," Bulbulyan addresses a surprising range of topics needed to run successful distribution in cannabis today.
In this short excerpt, Bulbulyan touches upon some of the core challenges and opportunities in cannabis distribution:
3) How to be Successful in Accounting for Your Cannabis Business
Accounting is one of the areas where it's easy to make a mess of things. The bigger your business, the higher the stakes and the faster everything can slide off track.
No matter the size of your cannabis business, Simone Cimiluca-Radzins, CPA, will walk you through the essential facts and knowledge gaps that continue to trip up so many cannabis businesses today.
In this quick excerpt from her course, "Accounting Principles in the Cannabis Industry," Cimiluca-Radzins covers some of the essentials for accounting success:
4) High Employee Turnover Rates
High turnover rates are one of the biggest challenges in cannabis today. In June 2018, Headset reported that 58% of budtenders did not make it to the two-month mark.
That is an overwhelming figure, and the lack of employee retention is costly and disastrous for businesses in any industry.
In this clip from his course, "Human Resources and the Cannabis Workforce," Keegan Peterson, founder and CEO of Wurk, addresses this challenge head-on:
5) The Biggest Challenges in the Cannabis and CBD Market Today
Marketers in Cannabis and CBD are faced with much greater restrictions and hurdles than most other industries.
This can make it hard to scale a business. In "Marketing in the Cannabis Industry," Jared Mirsky, founder and CEO of Wick & Mortar, lays out a blueprint for cannabis companies to consider as they shape their branding and marketing strategies.
The complete list of courses included in the Cannabis Business Essentials Certificate Program:
The Business of Cannabis Cultivation
Cannabis Processing & Manufacturing
Cannabis Lab Testing & Analytics
The Cannabis Retail Guide
The Business of Cannabis Distribution
The Business of Industrial Hemp
Obtaining Licensing in the Cannabis Industry
Securing Real Estate for Your Cannabis Business
Regulatory Compliance in the Cannabis Industry
Marketing in the Cannabis Industry
Sales in the Cannabis Industry
Accounting Principles in the Cannabis Industry
Human Resources & the Cannabis Workforce
An Investor's Guide to the Legal Cannabis Industry
Bonus Roundtable Discussion on Cannabis Extraction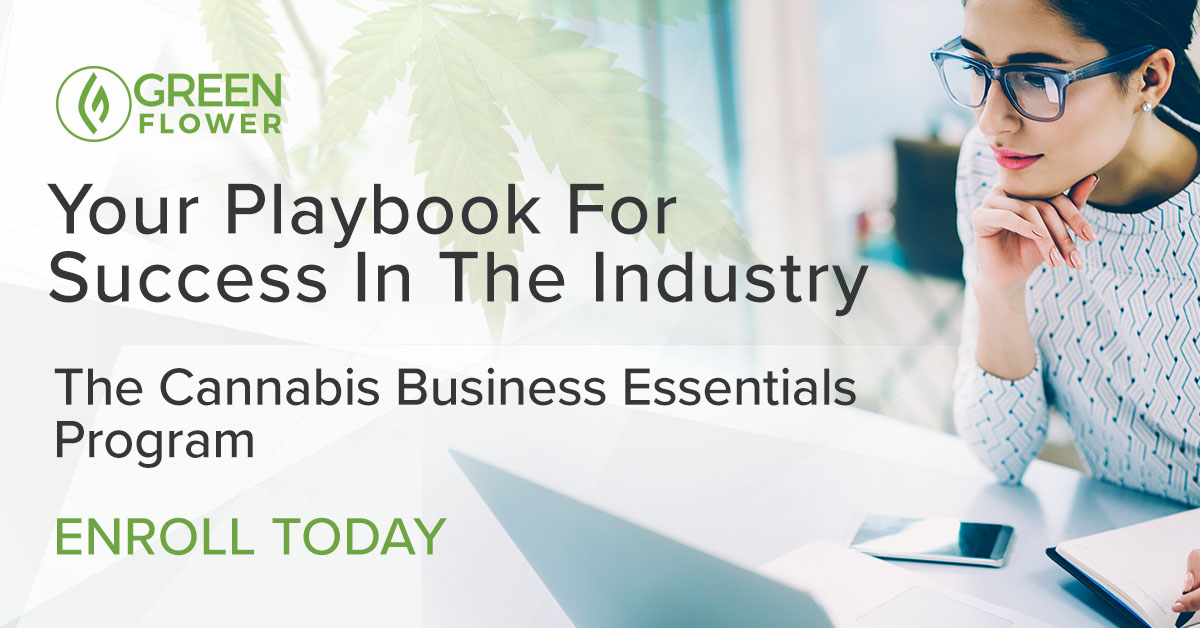 Sign up for our newsletter