When the leaves begin to fall and a chill starts to creep into our bones, it can only mean one thing: pumpkin spice season is upon us.
Pumpkin spice isn't just appealing to fuzzy-booted twenty-somethings. The cinnamon, nutmeg, and clove combination has culinary appeal that reaches far beyond the pumpkin spice latte.
When mixed with cannabis, pumpkin spice can be a great way to infuse a little bit of ganja into your favorite fall flavor.
There's nothing basic about these cannabis pumpkin spice recipes. Give them a try, and you'll be feeling cozy from the inside out.
Cannabis Pumpkin Pie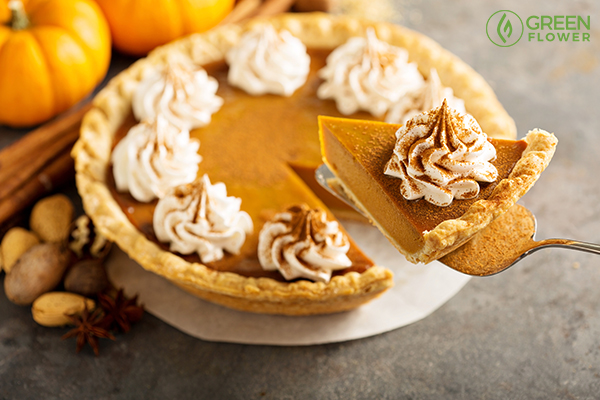 You can't go wrong with this classic pumpkin pie. It's a delicious option whether you're bringing dessert to Danksgiving or just feel like treating yourself with a seasonal favorite. Don't forget to add a dollop of whipped cream!
Ingredients:
1 (8-ounce) package of cream cheese (softened)
2 cups of canned pumpkin
1 cup of sugar
¼ teaspoon of salt
1 egg plus 2 egg yolks, slightly beaten
1 cup of half and half
¼ cup of melted cannabutter
1 teaspoon of vanilla extract
½ teaspoon of ground cinnamon
¼ teaspoon of ground ginger
¼ teaspoon of nutmeg
1 sheet of pre-made pie dough
Directions:
Place the sheet of pie dough into a 9-inch pie plate. Press down so it adheres to the shape of the plate, and allow to harden in the freezer for about an hour.
Preheat oven to 350 degrees F, and remove crust from the freezer. Bake for about 10 minutes, or until the crust starts to become golden brown in color.
In a large mixing bowl, beat cream cheese with a hand mixer. Add pumpkin, and keep mixing until combined. Add sugar and salt, and beat until combined. Add eggs, egg yolks, half and half, and cannabutter; beat until combined. Lastly, add vanilla and spices. Beat until fully incorporated.
Pour filling into the pie crust (preferably while the crust is still warm), and make for 50 minutes. The pie should be removed from the oven when the center is still jiggly, but not sloshy.
Place on a wire rack and cool to room temperature before serving. If not serving right away, keep pie in the refrigerator. Cut into eight slices, and top with whipped cream if preferred.
Perfectly Potent Pumpkin Bread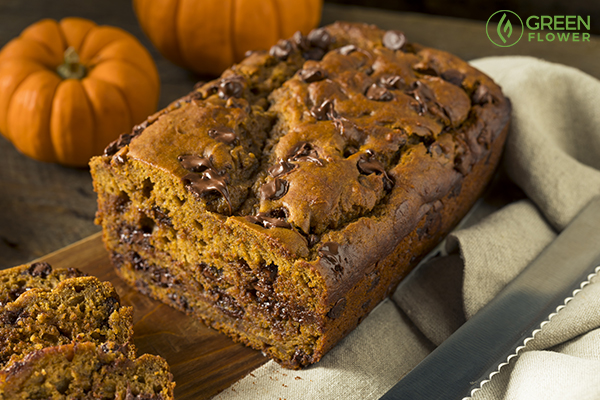 This pumpkin bread gets rave reviews for both its moisture and pure pumpkin flavor. It's not too sweet on its own, so feel free to toss in a handful of chocolate chips. Otherwise, this bread can be enjoyed on its own, with a meal, or with a slab of cream cheese on top.
Ingredients:
2 cups of granulated sugar
½ cup of cannabutter (softened)
3 large eggs
2 teaspoons of vanilla extract
1 large can (15 ounces) of canned pumpkin
2 ¾ cups of all-purpose flour
½ teaspoon of baking powder
½ tablespoon of baking soda
1 teaspoon of salt
¾ teaspoon of ground cinnamon
¼ teaspoon of ground cloves
¼ teaspoon of ground nutmeg
½ cup of milk
Directions:
Lightly grease and flour two 9×5 bread pans. Preheat oven to 350 degrees F.
Add sugar and cannabutter to a mixing bowl, and mix with a handheld beater. Add eggs, vanilla, and pumpkin; keep beating until fully incorporated.
In another bowl, mix flour, baking powder, baking soda, and salt, cinnamon, cloves, and nutmeg.
Alternate between adding small amounts of dry mixture and small amounts of milk to the pumpkin mixture while mixing.
Pour batter evenly into bread pans. Bake for about 50 minutes, or until a toothpick inserted into the center comes out clean. Allow to cool for a few moments, and then invert on a wire rack to release and cool.
Pumpkin Canna-Cheesecake Bars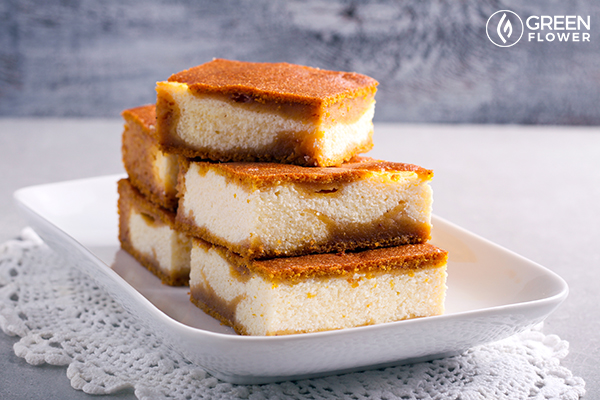 We're drooling over these layered pumpkin canna-cheesecake bars. Don't let the sweet ingredients fool you; the crust of these bars pack a serious cannabis punch, so be sure to lick up every last crumb.
Ingredients:
2 cups of graham cracker crumbs
6 tablespoons of melted cannabutter
3 tablespoons of sugar
3 8-ounce packages of cream cheese (room temperature)
1 ½ cups of sugar
cup of sour cream
4 eggs
1 teaspoon of vanilla
1 cup of pumpkin puree
2 teaspoons of pumpkin pie spice
Directions:
Preheat oven to 325 degrees F. Lightly grease a 9×13 inch baking dish.
Mix graham cracker crumbs and cannabutter in a small bowl. Using your fingers or the back of a spoon, press the mixture into the bottom of the baking dish. Bake for 5 minutes. Remove from oven, and set aside.
Beat cream cheese, sour cream, sugar, vanilla, and eggs until fully combined. Pour half of this mixture evenly on top of the crust.
Add pumpkin and pumpkin pie spice to the remaining half of the batter. Mix well, and carefully pour over the top of the cheesecake layer. Use a rubber spatula to make sure the batter is evenly distributed.
Bake for 40 minutes, or until the center is slightly jiggly. Turn off the oven, and open the door so it's just ajar. Allow the pan to set in the warm oven for 45 minutes.
Remove pan from the oven, and set on the counter until it cools to room temperature. Set the pan in the refrigerator to chill, and serve cold.
Pumpkin Spice Whoopies Pies with Cannabis Cream Cheese Filling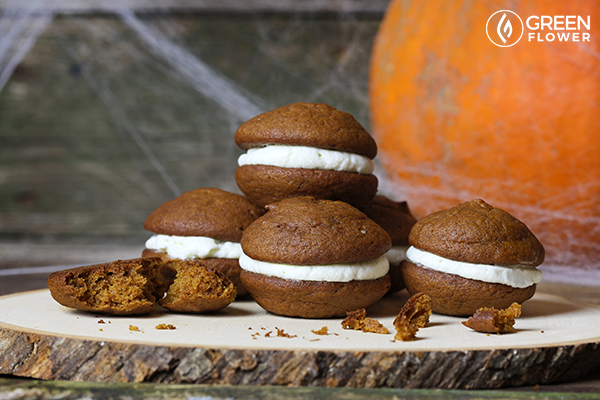 This 420-friendly take on the classic New England cookie sandwich will satisfy your sweet tooth like none other. Pumpkin-spiced cookies perfectly sandwich the cannabis cream cheese filling, creating the widely beloved dessert that's halfway between a cookie and a cupcake.
Ingredients:
For the pumpkin cookies:
3 cups of all-purpose flour
1 teaspoon of salt
1 teaspoon of baking powder
1 teaspoon of baking soda
2 tablespoons of ground cinnamon
1 tablespoon of ground ginger
1 tablespoon of ground cloves
1 cup of vegetable oil
3 cups of pumpkin puree (chilled)
2 large eggs
1 teaspoon of vanilla extract
2 cups of brown sugar (firmly packed)
For the cannabis cream cheese filling:
3 cups of confectioners' sugar
½ cup of cannabutter (softened)
8 ounces of cream cheese (softened)
1 teaspoon of vanilla extract
Directions:
Preheat oven to 350 degrees F. Line two baking sheets with parchment paper and set aside.
In a small bowl, whisk together flour, baking powder, baking soda, salt, cinnamon, ginger, and cloves; set aside.
In a separate bowl, mix pumpkin puree, oil, eggs, and vanilla until fully combined. Add brown sugar, and continue to stir. Slowly add the flour mixture to the wet mixture, and stir until well combined.
Drop dough onto cookie sheet (about ¼ cup each), and space them out about an inch apart from one another. Bake until the cookie tops have begun to crack and a toothpick inserted into center comes out clean; this typically takes about 15 minutes. Allow to cool completely.
Sift confectioners' sugar into a medium-sized bowl, and set aside. Use a paddle mixer or hand mixer to beat the cannabutter until smooth. Add cream cheese a small amount at a time, and beat until smooth. Add confectioners' sugar and vanilla, and continue beating the mixture until it's mostly smooth.
To assemble the whoopie pies, line a baking sheet with parchment paper. Transfer the filling into a piping bag, and cut off the tip. When the cookies have cooled completely, pipe a large dollop of filling onto the flat side of half of the pumpkin cookies. Place the remaining cookies on top of the filling sandwich-style, with the flat sides against the filling. Chill for at least half an hour before serving.
---
Sign up for our newsletter